forestry
Master Tree Plan
Our Tree Committee developed a Master Tree Plan for Watterson Park, outlining areas where tree plantings would prove to be beneficial, both aesthetically and environmentally. Since the development of the Master Tree Plan, we have planted over 450 trees and 75 shrubs throughout our City. In addition, we currently contract with County Wide Lawn & Landscaping to maintain the plantings by trimming, watering, mulching, fertilizing, and providing weed control.
As a result of these efforts, the City of Watterson Park has received a Tree City USA award annually from the Arbor Day Foundation since 2001.
What Is Tree City USA®?
Tree City USA® is a program sponsored by the Arbor Day Foundation in cooperation with the USDA Forest Service and the National Association of State Foresters. It provides direction, technical assistance and national recognition for forestry programs in towns and cities in the United States.
To qualify as a Tree City USA community, a town or city must have the following:
• A tree board or department
• A tree care ordinance
• A community forestry program with an annual budget of at least $2 per capita
• An Arbor Day observance and proclamation
For more information on the Tree City USA® program, contact The Arbor Day Foundation at 1.888.448.7337 or via their website.
The Lillian Wild Walking Path
The City of Watterson Park built a one-sixth mile walking path in November of 2010 on our City-owned property at Gardiner Lane at Gardiner View Drive. We invite residents, visitors, and area workers to use the track for fitness or for a peaceful, leisurely stroll.
The track has been named "The Lillian Wild Walking Path" after former Council member Lillian Wild. Mrs. Wild is a founding member of our City Council and was instrumental in the design and development of this path.
Master Tree Plans
The following plans for Gardiner Lane were designed by Paul Clinton of Beechwood Trees & Gardens in 1995 and approved by the City Council: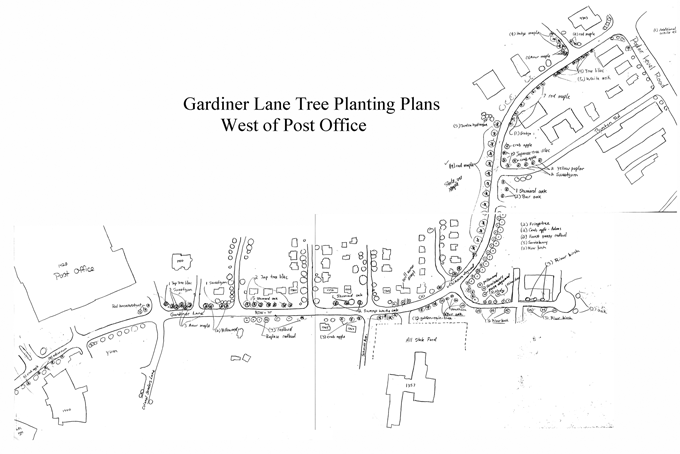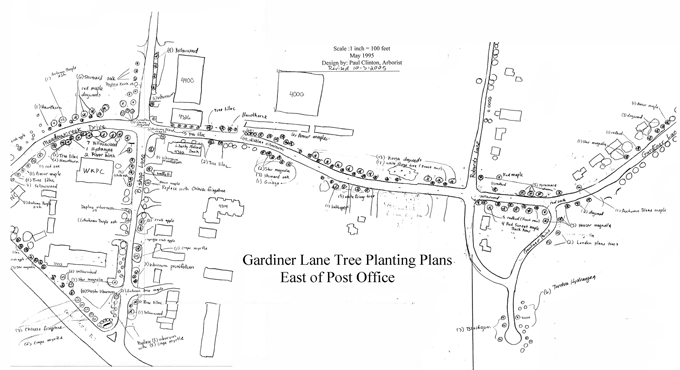 Paul Clinton designed the following plans for Bishop Lane in 1998: